Slow down
Jump to navigation
Jump to search
⚠️
Spoiler warning: This page is about a secret spell that the player can discover by experimentation.
Slow down spell
| | |
| --- | --- |
| Level | 6 |
| Mana cost | 1.2 |
| Mana drain | 1.2/s |
| Target | NPC |
| Cancelable | ✓ |
| Time | inf |
| Audible | ✗ |
| Script name | slowdown |
Runes:


 Rhaa Movis (decrease movement)
Description: Slows down the movements of the creature it is aimed at. [e]
Effect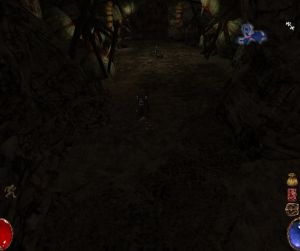 This is a targeted spell that the caster can use to slow down one NPC. One caster can slow down multiple enemies by repeating the spell (as long as there is enough mana, but each target can only be slowed down once. The spell can be canceled by the caster at any time or will automatically end after about 2.8 hours (subject to other spells such as slow time) or once the caster's mana runs out.
While the spell is active, the target's speed modifier is decreased by 1/20th of the caster level. This will slow down any action performed by the target, including movement, melee combat as well as spellcasting.
There is no visual effect on the target or caster while the spell is active, but the caster's HUD will show the spell icon in the top right. Double-clicking the spell icon will cancel the spell.